Mobile Banking
Security BankUSA Mobile Banking is a fast, secure, and free* way to access your accounts from your smartphone. Mobile Banking lets you bank anytime, anywhere - no checkbook or computer required.
*Regular text rates may apply.
Mobile Banking App Features
To get started, sign up for Online Banking. Here's how:
You must be enrolled in Online Banking to utilize Mobile Banking. Register by clicking the login/register button at the top of this page. First time users will be asked to register. Simply provide the name and security information required and you'll be ready to view your accounts. Once you're registered and logged into Mobile Banking, you'll be able to take advantage of features that include:
View your account balances in real time, including any pending transactions
Initiate a transfer between your Security BankUSA accounts
Set up a one-time or recurring bill payment
Make a deposit using your device's camera
Locate a Security BankUSA office or ATM near your current location
You can get our mobile app by clicking your app store icon below.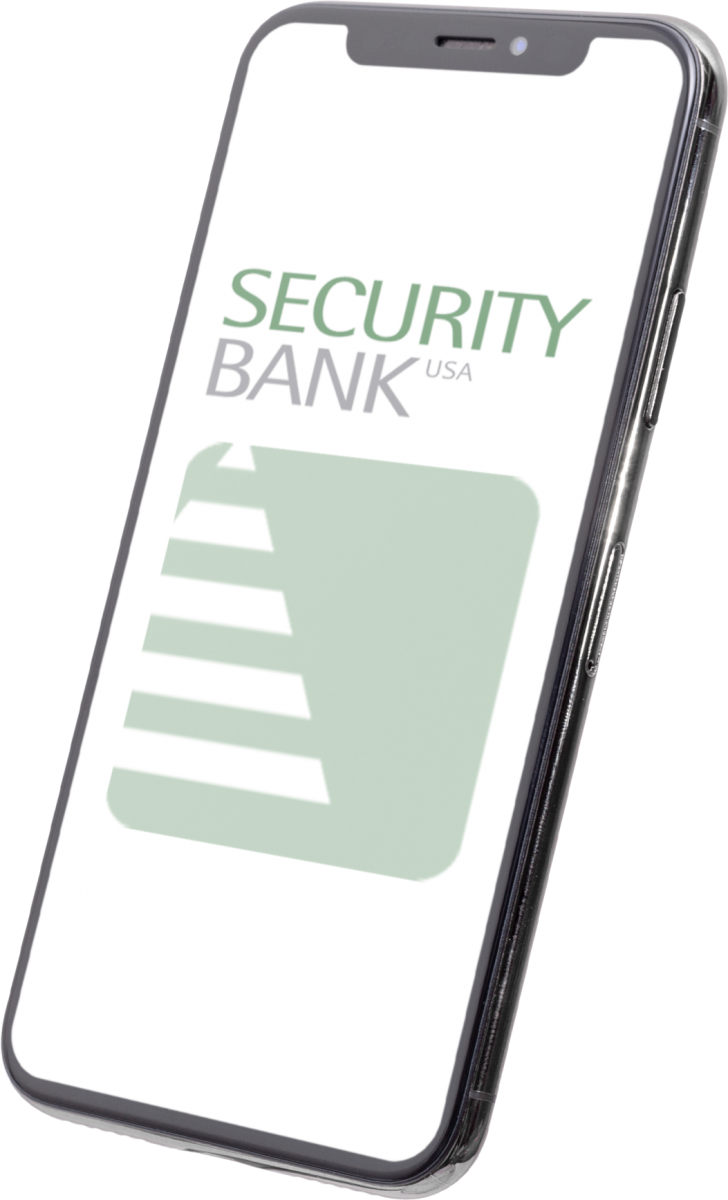 Mobile Deposit
Mobile banking lets you take a photo of your check with your smartphone and deposit it right into your Security BankUSA account. It's that easy!
Plus Mobile Deposit is:
Convenient - save a trip to the bank.
Simple - make a deposit with just a camera click and a few taps.
Secure - rest assured it's as safe and secure as online banking.
If you're ready to deposit a check, simply follow these steps:
Endorse the back of your check
Write "For Mobile Deposit Only" underneath your signature
Open the Security BankUSA Mobile Banking app and tap "Deposit" once you're logged in
Choose the account where you want the funds deposited
Enter the deposit amount
Follow the prompts to take a photo of the front and back of check using your device's camera
Complete the deposit
Mobile Banking Security Tips
Here are some helpful tips to follow:
Invest in an antivirus application for your mobile device to help protect you when downloading apps or mobile content.
Never provide personal identification or banking information over your mobile device unless you initiate the contact and you know that you're dealing directly with your bank.
Never share your password, account number, PIN and answers to secret questions. Don't save this information anywhere on your phone.
Never set the app, web or client-text service to automatically log you in to your bank account. If your phone is lost or stolen, someone will have free access to your money.
Set the phone to require a password to power on the handset or awake it from sleep mode.
Remember, your bank would never contact or text message you asking for personal or banking information. Assume any unsolicited text request is fraudulent. Giving this information places your finances and privacy at risk.
Immediately tell your mobile operator and your bank if you lose your phone.
Only install programs that you know are from legitimate Web sites, such as your Internet service provider, financial institution, wireless phone company, or trusted app vendors.
Click hereto view our Mobile Banking Privacy Policy.
---